Enjoy the Journey
I am a creative
When I finished college in late 1970's I had no idea that I would be an artist. I was following in my fathers footsteps toward the ministry, to work with kids and youth, and I even had a license to preach. I attended Centenary College in Shreveport, LA in the Church Careers program and finished at Scarritt College in Nashville, TN with my the next stop being seminary. Long story short, I didn't want to be a pulpit preacher. That was not my calling. In reality I had a calling I just couldn't understand it yet. So there was a fork in the road. I don't think I can say it any better than how Dan Fogelberg said it in his 1977 song "Nether Lands".
Once in a vision
I came on some woods
And stood at a fork in the road
My choices were clear
Yet I froze with the fear
Of not knowing which way to go
One road was simple
Acceptance of life
The other road offered sweet peace
When I made my decision
My vision became my release.
Dan Fogelberg understood the personal step that we have to make. I just couldn't see it yet. I was heading in so many directions at once. The real reason I was in Nashville was that music was my dream, but not my reality. I needed the opportunity to see it up close and make a choice. I knew that I was a spirit filled person but not a minster. I loved working with kids, I loved music, I really enjoyed art and through it all there was this creative guy trying to break free – to find a voice and a real direction in my life. So I took it on faith and decided to see where art would lead (it's actually where God would lead me with art).
So I moved to Baton Rouge, Louisiana and worked as a patient artist for a law firm and did free lance work for a local advertising agency for a year. I had no experience in advertising at all – ZERO. My art experience was in fine arts and education, but I learned quickly. Over a Christmas holiday I visited with Burt Tieje from Jennings LA, a photographer and graduate from Baylor, about his work with oral history in college and we decided to see if we could write a grant to do a project on Jefferson Davis Parish. We received a grant from the National Endowment for Humanities and the Zigler Museum Foundation.  "Voices From the Louisiana Prairie" is our exhibit of the oral and visual history of Jefferson Davis Parish, Louisiana. We spent 15 months doing oral interviews, collecting old photographs, reprinting photographs from glass plate negatives, and documenting the current parish in photography and illustration. The culmination was an exhibit at the Zigler Museum, with Louisiana Public Broadcasting using the event as their annual party. The exhibit toured the state for a year and later was featured at the Louisiana World Exposition in New Orleans.
Those two years were like going back and getting my masters degree. I moved back to Baton Rouge as an experienced illustrator and art director for a local advertising agency. Don't worry I'm not going to go through my entire history here. I'll just say that I've had the opportunity to do some very unique and special projects over the years. Designer, illustrator, and consultant for the Louisiana World Exposition: Louisiana Folklife Pavilion, helped create the brand for Louisiana Workers' Compensation Corporation, created a health and wellness program for the United Methodist Church, and even hired by the National Park Services to tell the story of the Battle of New Orleans for their 200th anniversary.
Almost 30 years ago I met Tara who became my partner and wife. She taught me more about being a creative person than anyone else. She was also a natural artist but unlike me she reached out to new forms all the time. She could draw, paint, create stain glass, jewelry, sew, cook, and the list continues. She would master something and move on to something new. She did it for herself to experience it. The pleasure was the process of doing and doing it well. I do miss her daily encouragement but I still have her inspiration. You can see more about Tara's art in the Lagniappe section.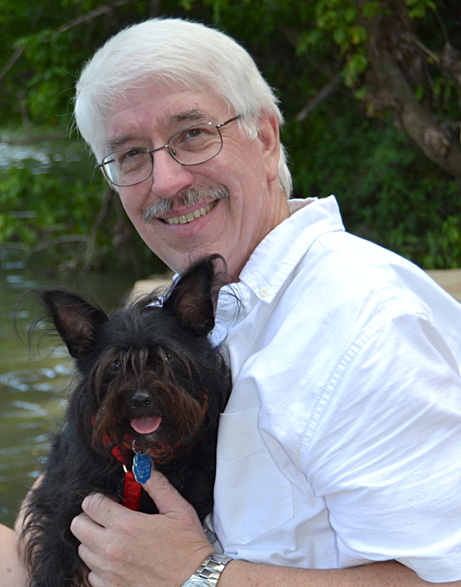 Stan Dark with Willa Rue
225-317-2918
I first worked with Stan on illustrations for an advertising client. Then I opened Sabai Jewelry Gallery, and I was looking for artists who wanted to participate in the Mid City Merchants' White Light Night. I mentioned that to Stan, and he told me that he had works to display. Imagine my surprise when Stan arrived with gorgeous angels painted in oil on canvas. I had no idea that he could achieve that standard of art work. Since that time, Stan has shown his work during several art hops, and his work has evolved from angels to florals to abstracts to fabulous, colorful grapes. All of these are wonderful, and I would be hard-pressed to favor one painting over the other. My customers absolutely love his work, and I love seeing it every day!
I am the Senior Art Director for a corporate in-house marketing department. I've utilized Stan's skills for illustration, design, and web. Every time I've hired Stan, he has been a true creative partner. Not only does he deliver a quality product, but he listens to the marketing needs and tailors each job with those marketing goals in mind. He listens, gives thoughtful suggestions, and never misses a deadline. He is a valued vendor and is considered part of our marketing team.
David Carlysle Humphreys
Photographer & Artist
An artist is born, develops and creates. Artists inherently know that they cannot live without creating. It is a genetically innate process. Stan Dark was born with that gene and continues to live the life of an artist and he cannot ignore his inner creative voice. I will predict that Stan will continue creating beautiful art until he can no longer. That is the soul of an Artist and he will leave his artistic mark on the world for posterity.